Your #1 Jeep Dealership Is Near Glen Ellyn, IL
Look no further than the top Jeep dealership in Illinois, Naperville Chrysler Jeep Dodge Ram located right down the road from Glen Ellyn, IL. Cars come in a variety of shapes, sizes, makes and models. If you've been shopping around for awhile, you know they also come with a variety of price tags. So how can you be sure you're getting the right car to fit your needs? How can you feel satisfied that you've gotten the best possible price? Leave that to our salespeople, who measure their success with customer satisfaction, not sales. From the moment you step on our lot, you'll get the treatment of an important client because that's what you are. We're in the business of making life-long customers, not making quick sales. We've served Jeep vehicles near Glen Ellyn, IL proudly for years and we're not going anywhere soon! Come see for yourself at 1565 W. Ogden Avenue. If you have any questions, give us a call at 844-879-2028 and we'll be happy to give you all the information you need.
New Chrysler, Jeep, Dodge and Ram Models Near Glen Ellyn
If you're in the market for a new Chrysler, Jeep, Dodge or Ram and you live in Glen Ellyn, look no further than Naperville Chrysler Jeep Dodge Ram. Our new inventory of stellar 2019 models includes the 2019 Jeep Cherokee, 2019 Jeep Compass, 2019 Dodge Grand Caravan, 2019 Chrysler Pacifica and 2019 RAM 1500. We have SUVs, sedans and minivans, both new and used, with a variety of financing options designed to fit almost any budget. Our dependable line of vehicles is ready and waiting for you! Check us out online or come on down to our showroom on Ogden Avenue.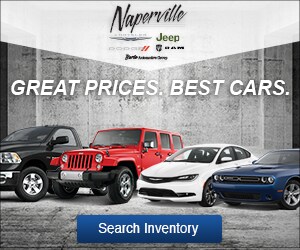 Certified Pre-Owned Chrysler, Jeep, Dodge and Ram Vehicles That Run Like New
Looking for better savings with a pre-owned Chrysler, Jeep, Dodge or Ram? Near Glen Ellyn, our prices can't be beat! Come check out our lot on Ogden Avenue to see for yourself. Or save yourself a trip and get all the information you need with our used inventory online. All of our prices reflect current market value or lower. We consider selling used cars just as serious as selling new ones. Our dedicated sales team will figure out what you're looking for, how much you're willing to spend, and find a pre-owned Chrysler, Jeep, Dodge or Ram to meet your needs. To help out those with little extra money to spend, we maintain a line of constantly updated used. If you see something you like, act quickly because the deal might not last for long!
Enthusiasm and Skill are at the Heart of Our Parts and Service Departments
For top quality Chrysler, Jeep, Dodge and Ram service near Glen Ellyn, come to Naperville CJDR. We have a team of highly qualified and enthusiastic technicians who will help you make the most of your investment and lengthen the life of your vehicle. Don't let just anybody rotate your tires, change the oil, and check the transmission. Leave it to professionals. Our Chrysler, Jeep, Dodge and Ram service department is home to some of the most advanced diagnostic technology available today. We offer seasonal service specials, so make sure to check back frequently. If you're into doing it yourself and need parts, check out the Chrysler, Jeep, Dodge and Ram pats department, stocked full of rare and commonplace parts at low prices. Save yourself a few extra bucks with our regular parts specials. Make an appointment online today!
Gorgeous Glen Ellyn, Illinois
Called the "City of Volunteers," Glen Ellyn is a city of 25,000 that couldn't get much more quaint. Located due west of Chicago and about 30 minutes down Naperville Road from Naperville, Glen Ellyn has an ideal location. It's urban enough for city lovers and suburban enough for families who appreciate safety and serenity. The town is home to Lake Ellyn, one of the closest lakes to nearby Lake Michigan.