Come Visit The Best Jeep Dealership Near Bolingbrook, IL
At Naperville Chrysler Jeep Dodge Ram we're committed to being the best new and used Chrysler, Jeep, Dodge and Ram dealer near Bolingbrook, IL. Our lot features the new lines of Chrysler, Jeep, Dodge and Ram models at the lowest possible prices. Like our stellar line of American cars, we're reliable and dependable. We maintain rigorous standards that ensure we satisfy each and every customer that walks onto our lots. Choosing the right car takes a lot of time, but it doesn't have to feel like a drag. Our salespeople are friendly and engaging. We aim to educate customers, not convince them. That's why customers that shop Naperville CJDR, your leading Jeep dealer near Bolingbrook, have been coming to us for years. Stop by our lot at 1565 W. Ogden Avenue or give us a call at 844-879-2028. We're looking forward to your visit!
New Chrysler, Jeep, Dodge and Ram Vehicles for Bolingbrook Customers
Quit looking for new Chrysler, Jeep, Dodge and Ram models near Bolingbrook and come to Naperville CJDR on Ogden Avenue. We have the best Jeep, Dodge, Ram and Chrysler vehicles in Illinois including the 2019 Jeep Cherokee and 2019 Chrysler Pacifica all with competitive pricing. We also offer a variety of financing options to help you get the car you want with payments you can afford. Check out everything we have on our lot online or come by and see them for yourself and take a few test drives.
In The Market For a Pre-Owned Chrysler, Jeep, Dodge or Ram Near Bolingbrook? We've Got You Covered
Make Naperville Chrysler Jeep Dodge Ram your first choice for certified pre-owned Chryslers, Jeeps, Dodges and Rams near Bolingbrook! For years, customers have come from all across Chicagoland to see what we have on our lot. Lucky for you, our entire inventory is available completely free online. Flip through our whole line. If you have any questions about any car, chat with us online or give us a call. We do our homework, so we're ready to answer any questions you might have. Don't miss out on our specials either. Deals don't last long, so strike while the iron is hot! Make us your first stop for pre-owned Chryslers, Jeeps, Dodges and Rams near Bolingbrook.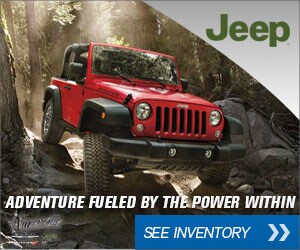 Advanced Technology and Extensive Inventory in Our Parts and Service Departments
Looking for Jeep parts near Bolingbrook? Are you in need of Chrysler or Dodge service near Bolingbrook? Visit your Naperville Jeep dealership for all your automotive needs. Our job doesn't finish when we see one of our cars roll off the lot. Keeping a car in prime condition takes work. Our team of qualified technicians use the most advanced diagnostic technology to keeps our clients' motors running clean and healthy for years. Explore our service department online for more detailed information. Also, make sure to check on our seasonal service specials. For parts inquiries, visit our parts department and see what's on sale in our specials page. Call or make an appointment for service today!
Beautiful Bolingbrook, Illinois
A 20-minute trip down 53 brings between I-55 and I-88 brings you to Bolingbrook, Illinois, the 17th largest incorporated place in the state. Its 75,000 residents enjoy an ideal location just southwest of Chicago on I-55. As a relatively new suburb, Bolingbrook experienced rapid growth during the 1990s. In the 2010 edition of America's Top 100 Places to Live, Bolingbrook sat proudly at #43 on the list!